200 Amp Generator Transfer Switch Eaton (cuttler Hammer) Model # Dt224urk-nps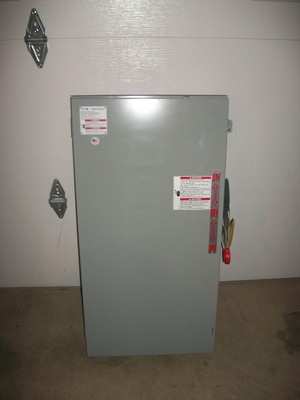 200 AMP GENERATOR
TRANSFER SWITCH
EATON (Cuttler Hammer) Model #
DT224URK-NPS New, manual, hand operated double throw safety switch. 200 AMP,
Single Phase, 240 volt AC, 2-pole 3 wire,
Nema 3R (outdoor raintight), ON-OFF-ON switch positions (center OFF) can
be pad locked in any postion. Additional padlocking can be done at the top and
bottom of the cabinet door. Clearly visible handle can be seen from a
distance. Suitable for service entrance
use with neutral kit already installed. Non-fusible, UL Listed File No. E5239
This unit measures 6" deep x 21" wide
x 38" high. Plenty of room inside the box to install your wires. With card
board box it weighs in at 66 lbs. with a UPS box size of 10 x 22 x 39. Gray
Powder coated finish, on top of galvanized steel.
Knockouts on sides, top, and bottom.
Enables conduits to be mounted close to the wall for a neat appearance.
This unit can be used to transfer service
from a normal source of power to an alternate source.... or to switch from one
load circuit to another. Great for hooking up between your electrical meter and
your Panel Box.
Made in USA
I will email you a
wiring diagram after purchase.
Similar Items For Sale:
Enter the text or HTML code here